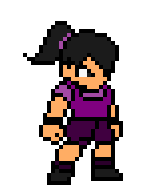 Britney M. is the brightest and "mom figure" of the Saiyan Shadows. She's the second oldest, behind Jalen.
Being the cousin of Genesis, Jalen, Dalexis and JaLeah, Britney was kept by her parents, as was Rosemary, her younger sister. Growing up, Britney always tried to pace herself and Rosemary on the good path, as she tries IRL. When Rosemary was possessed by Jerome, she seeked her friends at the time for help(JaLeah and Dalexis). They soon met Genesis and Jalen and fought to the end against Jerome, after saving Rosemary. Soon enough, they met the RRBs, Marios and Sonic fighters, becoming all time superheroes. She is Rosemary's older half-sister.
Personality
Edit
Britney's one of those friends who'd act more like a mother than a friend/sister. She's smart, nice, bright and optomistic. She's the smartest of the Saiyans, and maybe even the heroes. Britney's just your basic mother figure in a group.